Fast and synchronous measurements
Would you like to switch to the US version of our website?
EtherCAT®-based measurement for enhanced measurement requirements
In the case of high-demanding measurement applications exceeding the CAN bus capabilities, CSM's EtherCAT®-based MiniModules provide the optimal solution. EtherCAT® is an established protocol for fast and synchronous measurements coming from the test bench measurement technology sector. It sets standards in terms of bandwidth, maximum number of measurement channels and synchronization of measurement signals.
Overview ECAT MiniModules
As an Ethernet-based data bus, EtherCAT® features short cycle times and low jitter. In addition, the Distributed Clocks functionality ensures accurate synchronization (≤ 1 μs) of all connected modules, regardless of the size of the measurement setup. EtherCAT® supports a similar network structure as the one known from CAN bus. Ethernet thus enables the setup of extensive measurement networks with many slave devices on one bus – which ideal for distributed measurement applications.
ECAT MiniModules from CSM open up new possibilities for distributed measurements
CSM's EtherCAT®-based MiniModules are ideal on the one hand for multi-channel applications e. g. with more than 1,000 strain gauges / acceleration sensors and for synchronised high-speed measurements with measurement data rates of up to 800 kHz per channel on the other hand. ECAT MiniModules thus feature all the advantages of CSM's CAN MiniModules and convince through their compact and robust design as well as the high accuracy over the entire operating temperature range.
EtherCAT® goes mobile
In combination with the XCP-Gateway, CSM connects its ECAT MiniModules with the protocol XCP-on-Ethernet. As a result, the measurement modules are made compatible with standard data acquisition systems in the automotive measurement technology sector. In addition, the gateway connects CAN and EtherCAT® measurement data in a common data bus. This simplifies the setup of measurement applications and saves resources, since only one measurement chain is needed. The swift configuration of the application is possible with CSMconfig (former xx-Scan Config).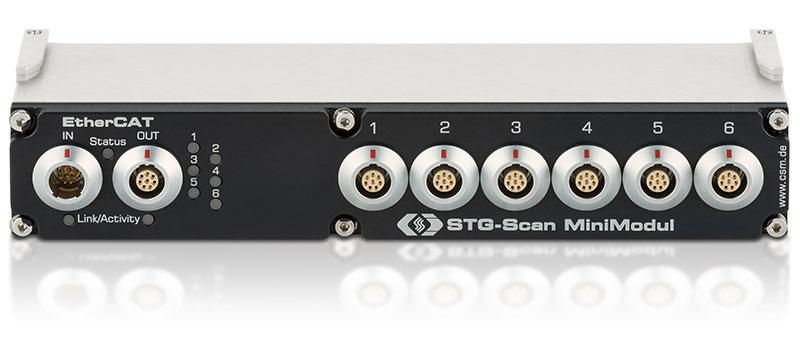 ECAT STGMM 6
Precise and synchronous acquisition of mechanical strain directly at the strain gauge points of application: This is what the EtherCAT®-based measurement module ECAT STGMM 6 with six time-synchronous strain gauge inputs for quarter-, half- and full bridges has been designed for
ECAT ADMM 4 HS100/800
Measurement data rates of up to 800 kHz per channel for fast mobile measurements of analog voltages or for the use of IEPE sensors with up to 100 kHz per channel: This is what is offered by the high-speed EtherCAT® measurement modules from CSM.
EtherCAT® AD MiniModules
Acquisition of analog voltages with higher measurement data rates: The ECAT ADMM 4 combines all the advantages of a compact and robust CAN-based AD MiniModule with the large bandwidth of EtherCAT®.
XCP-Gateway
XCP-Gateway is the interface between the data acquisition software (e. g. vMeasure CSM, CANape®, INCA®, Vision® ...) and the EtherCAT® measurement modules from CSM. It includes an EtherCAT® master and an XCP-on-Ethernet slave.