Software
Software for Configuration, Measurement and Visualisation
For the purposes of the setup of measurement chains from one source, CSM offers software solutions for the configuration of the CSM measurement modules as well as for the measurement and visualisation of measurement data.
Configuration software
CSMconfig (incl. CSMview) for all CSM measurement modules
CSMuniconf for the UniCan 2 data logger
Measurement data acquisition software
vMeasure CSM: software from Vector Informatik for measurements with all CSM measurement modules. CSM distributes the measurement software, among other things, in a bundle with the USB-to-CAN interface CSMcan.
Add-ons and plug-ins
In addition, CSM offers several software add-ons and plug-ins, for the easy configuration of the CSM measurement modules, via third-party software.
CSM INCA AddOn CAN
CSM INCA AddOn ETH
DIAdem EtherCAT driver
vMeasure CSM
vMeasure CSM, developed by Vector Informatik, is an easy-to-use software tool for the acquisition and analysis of measurement data that can be used in combination with all CAN- and EtherCAT®-based CSM measurement modules, including configuration.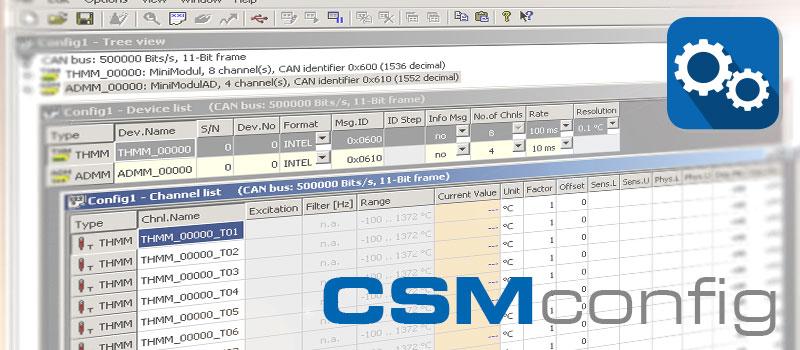 Swift configuration of measurement chains: CSMconfig is the reliable configuration software for all CAN and EtherCAT® based measurement modules from CSM. The clearly arranged and easy-to-use user interface allows an easy setting of all measurement parameters. This helps speeding up the measurement setup considerably.

Uniconf is the comprehensive software package for the configuration and management of the CSM's UniCAN 2 data loggers.
CSM INCA AddOn
Fast and precise measurements with ETAS INCA®: Both software complements CSM INCA AddOn CAN and CSM INCA AddOn ETH enable easy integration of the CSM measurement modules and the ECM exhaust measurement modules in the measurement and calibration software INCA® from ETAS.