Fast, flexible, reliable

Applications
Quick, flexible and reliable measurement in any application
CSM offers measurement devices for various measurement applications. For over many years, we set worldwide technological standards, particularly in the field of decentralised measurement technology. Regardless of whether it involves mobile use in the vehicle during the winter testing in northern Sweden, in the blistering heat in Death Valley, or close to the sensor installed in the test bench, CSM's measurement modules are always present and reliably deliver precise results.
Designed for the distributed use in the engine compartment of vehicles, CSM measurement modules are characterised by their suitability for use, in the case of extreme operating temperatures, high protection classes and an extremely compact design. At the same time, they convince on account of their excellent technical specifications and outstanding accuracy. In addition, each measurement setup is simple and scalable without tools, can be modularly adapted to the measurement task and is quickly installed and configured.
Measurement of analog voltage from sensors
Regardless of whether it involves measurements of oil circuit pressure, the flow rate in the cooling circuit or a vehicle's ground clearance, many sensors convert their respective measured quantity into an analog voltage which can be processed in one of CSM's analog measurement modules.
Extensive exhaust gas measurements for emission reduction purposes
The reduction of emission values plays an essential role in vehicle development. In order to obtain meaningful measurement readings, CSM has expanded its measurement portfolio to include exhaust gas measurement modules from ECM.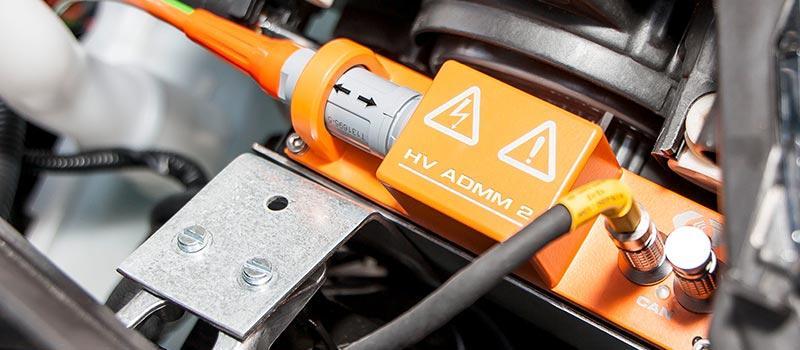 Safe measurements on high-voltage components
E-mobility: Safe measurements on high-voltage components of electric and hybrid vehicles; in distributed applications and in test benches. CSM measurement systems offer certified safety for the measurement of temperature, voltage, humidity, etc. in high-voltage environments.
Fast and synchronous measurement with EtherCAT®: High performance for mobile measurement applications
The EtherCAT® measurement technology from CSM offers the highest measurement performance: e.g. for multi-channel applications with more than 1,000 strain gauges - / acceleration transducers and applications with measurement data rates of up to 800 kHz per channel.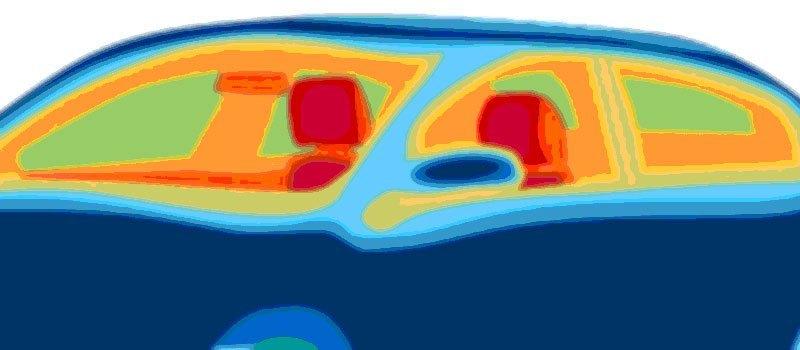 Temperature measurements
Temperature measurements play a vital role for the development of components, reducing fuel consumption as well as for the driving comfort, in vehicles.
Measuring mechanical stress with strain gauges
Measuring mechanical stress in assemblies and materials fast and reliably: Strain and compression measurements with strain gauges provide precise results regarding the forces that are applied to components for structure tests, durability measurements as well as product and material testing.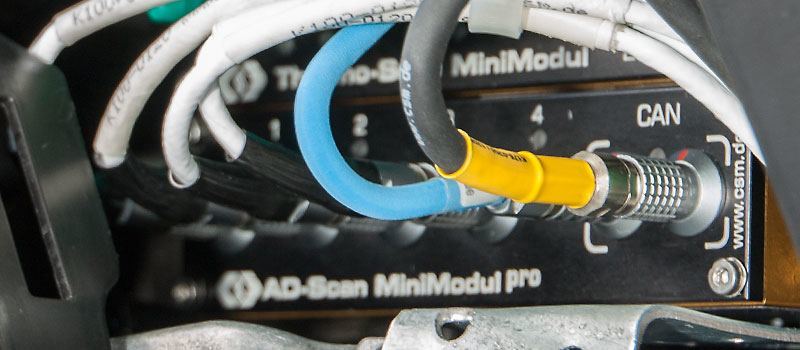 Current and voltage measurements on electrical consumers in vehicle power supply systems

The number of electrical and electronic components in vehicles is steadily rising. In order to provide an efficient design of vehicle electronics and electrical systems, precise measurements of current and voltage are essential.
Measurement of digital signals – for an optimised engine and transmission management
The optimisation of processes in the engine, the clutch and further components of the powertrain help to improve the performance and the smooth running of an engine and to reduce its emissions.